Endless Scroll

Branding /
Exhibit Design /
Art Direction
RISD graphic design department senior show


*This show was a collaboration a group of graphic design students from the class of 2019. All branding and art direction decisions were made through group discussions and ideations. Committee members are listed below.

A Maximalist Celebration
Every department as RISD curates a senior show for 5 days. As we gathered, one month prior to our very own show, we encountered some serious questions.

How do you create a show:

1 . for a whole class of 60 + people, all with distinct and diverse styles?

2. that properly celebrates senior year?

No one -ism, of graphic design, from swiss modernism to brutalism, seemed to adequately express our class. Rather, being arbitrary and maximalist seemed appropriate to accentuate celebration and inclusivity.

Our curatiorial statement explains it in further detail:

"From hieroglyphs written on papyrus to cat memes on your feed, the intuitive scroll, both literally and metaphorically, links the past and present of our graphic design practice. Similarly cyclical and moving ever forward, the annual RISD Graphic Design Senior Show, Endless Scroll, presents the works, sketches, ideas, and most importantly, characters of the class of 2019.

Endless Scroll is the crescendo towards the final chapter of our RISD experience. We want to acknowledge and take ownership of the multiplicity and complexity within our class, through a maximized display of books, posters, specimens, identities, interfaces and so much more.


RISD GD's class of 2019 is made up of designers who have walked very different paths and this exhibition is the materialization of our time here. We have read, we have written, we have created beautiful vectors and pixels, and we have typeset a great deal of text.

Our focus on typography and the written word helped us to develop the concept for organizing the show based on word count. In doing so, we aim to reveal the ways in which graphic design operates within a continuum of image and text. We are here to celebrate our varied approaches to graphic design and the continuous coincidences that have brought us here together."

*Written by Mac Wang, Raina Wellman, Tiger Dingsun, Ja Yoon Lee
For the inclusive maximalist, every senior was designated two glyphs to design. Our typeface was used with Arial.

The typeface can also be downloaded on our show's website.


Thumbcrap (left), dingbat set (right)
Despite the "fact" that "graphic designers only wear black," four colors were incorporated to increase the maximalism as well as celebration. Instead of CMYK we used the four colors on our riso printer.
100 goodie bags were provided on opening night. They were stuffed with three riso printed posters, laser cut out keychains, bookmarks, pins, and stickers.
T-shirts and tote bags were also sold during opening night.
The space also featured vinyl cutouts as well as actual 'scrolls' of our glyphs. Scrolls were made with wooden dowels and canvas paper plotted glyphs.
(left) vinyl cutouts in video room (right) physical scrolls in the main hall
With arbitrary work also followed arbitrary curation. Each room were categorized by word count: 0 - 50 words, 50 - 100 words, 100 + words, and a video room.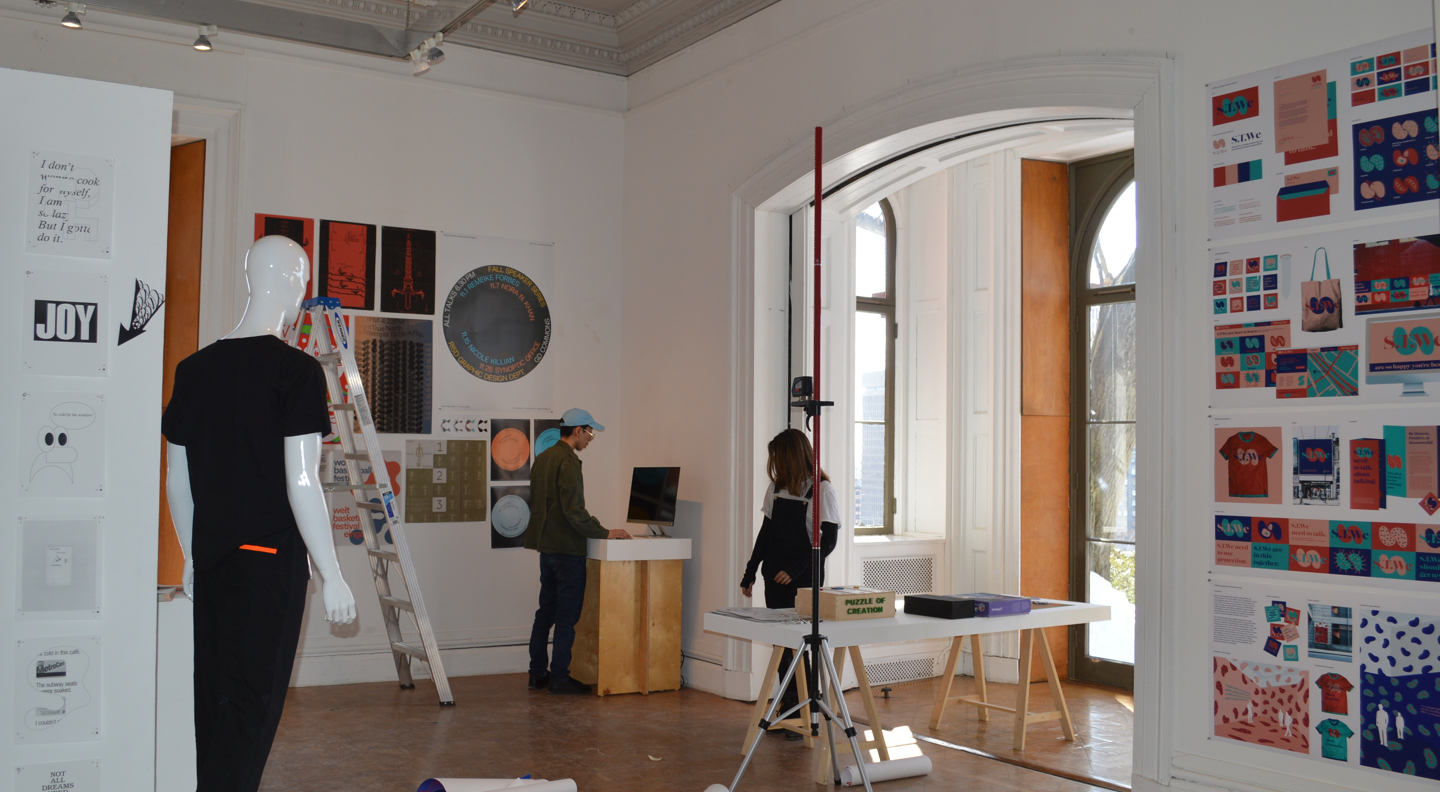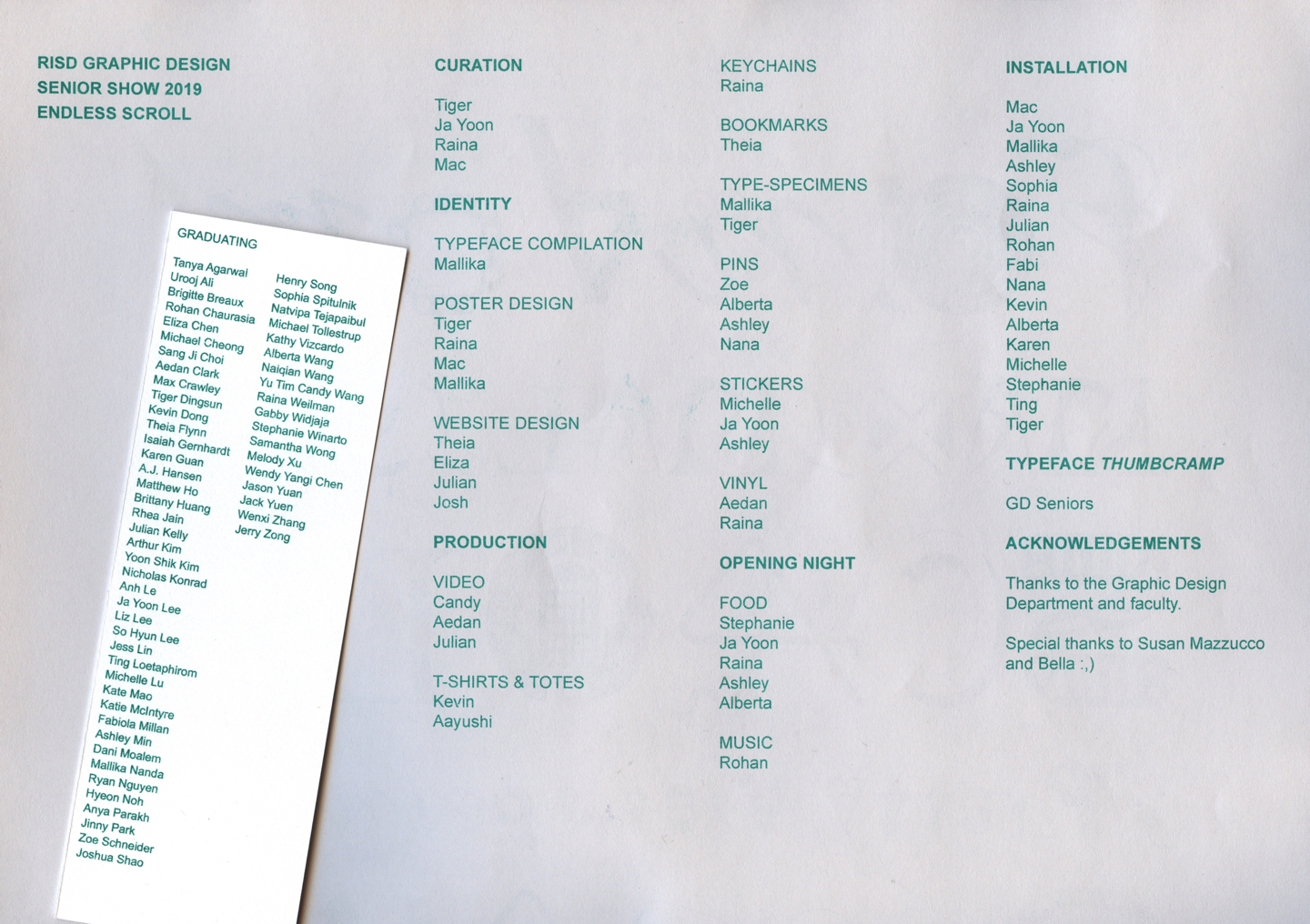 RISD GD's class of 2019 and the committee.

*Endless thank yous.